February 6, 2020
Congratulations to the 2020 ICAN Juried Exhibition Winners!
The winners of the 2020 ICAN Juried Exhibition have been chosen! Here's your first look at the field for Short and Stout! This year's juror, Katie Sleyman, Acquisitions and Content Editor of Ceramics Monthly and Pottery Making Illustrated, has had her work cut out for her with an exceptional cast of outstanding submissions. She selected 20 ceramic works to be included in this year's exhibition, which will be on display at the ICAN booth (#400 in the convention center) from March 25–27, at the NCECA conference in Richmond, Virginia.
ICAN extends a heartfelt thank you to everyone that submitted their work. Please join us in congratulating the winners!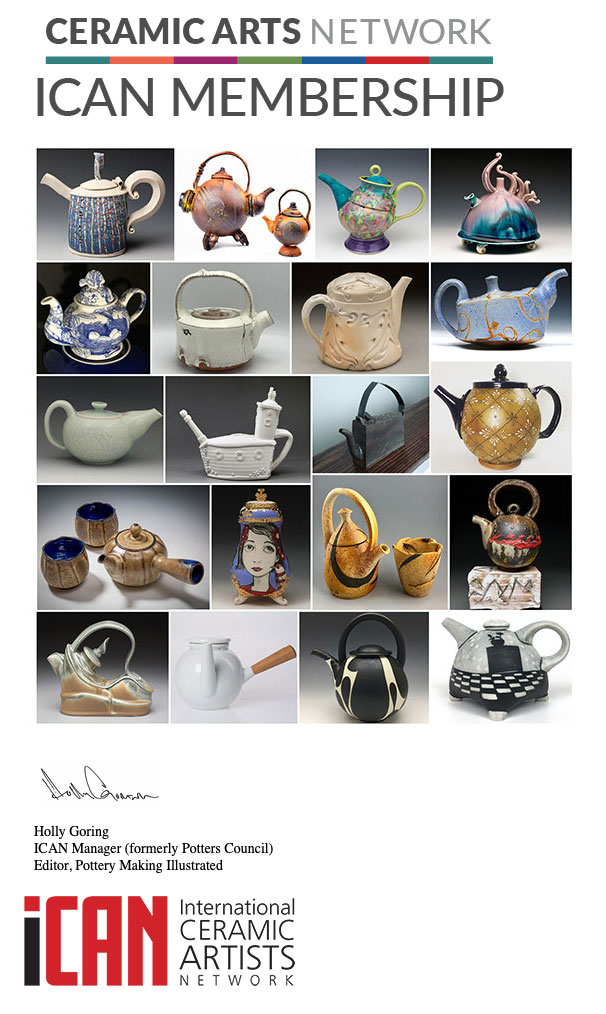 2020 Juried Exhibition Winners:
Marion Angelica, Flat Iron Teapot
Hayne Bayless, Small Teapot with Hinge Lid
Fong Choo, Ameboid
Kimberly Cook, Me and My Teabird
Hannah Graeper Carver, Cobalt Teapot
William Jackson III, Sci-Fi Teapots
Swanica Ligtenberg, Horsehair Raku Mishima Teapot Set
Scott McClellan, Terra-Cotta Teapot
Brooke Millecchia, Foyer
Polina Miller, Tea Set
Stephanie Osser, Bluebird Teapot
Lora Rust, Ivory Nouveau Teapot
Shana Salaff, Chubby Teapot
Sam Scott, Black and White Teapot 1
Marcia Selsor, Botanical Vision
Ulla Sonne, The Geometric Teapot
Hayun Surl, Untitled
Leilani Trinka, Perahu Teapot
Joan Ulrich, Roundabout Tea
Adam Yungbluth, Over the Top Grand Stand Teapot