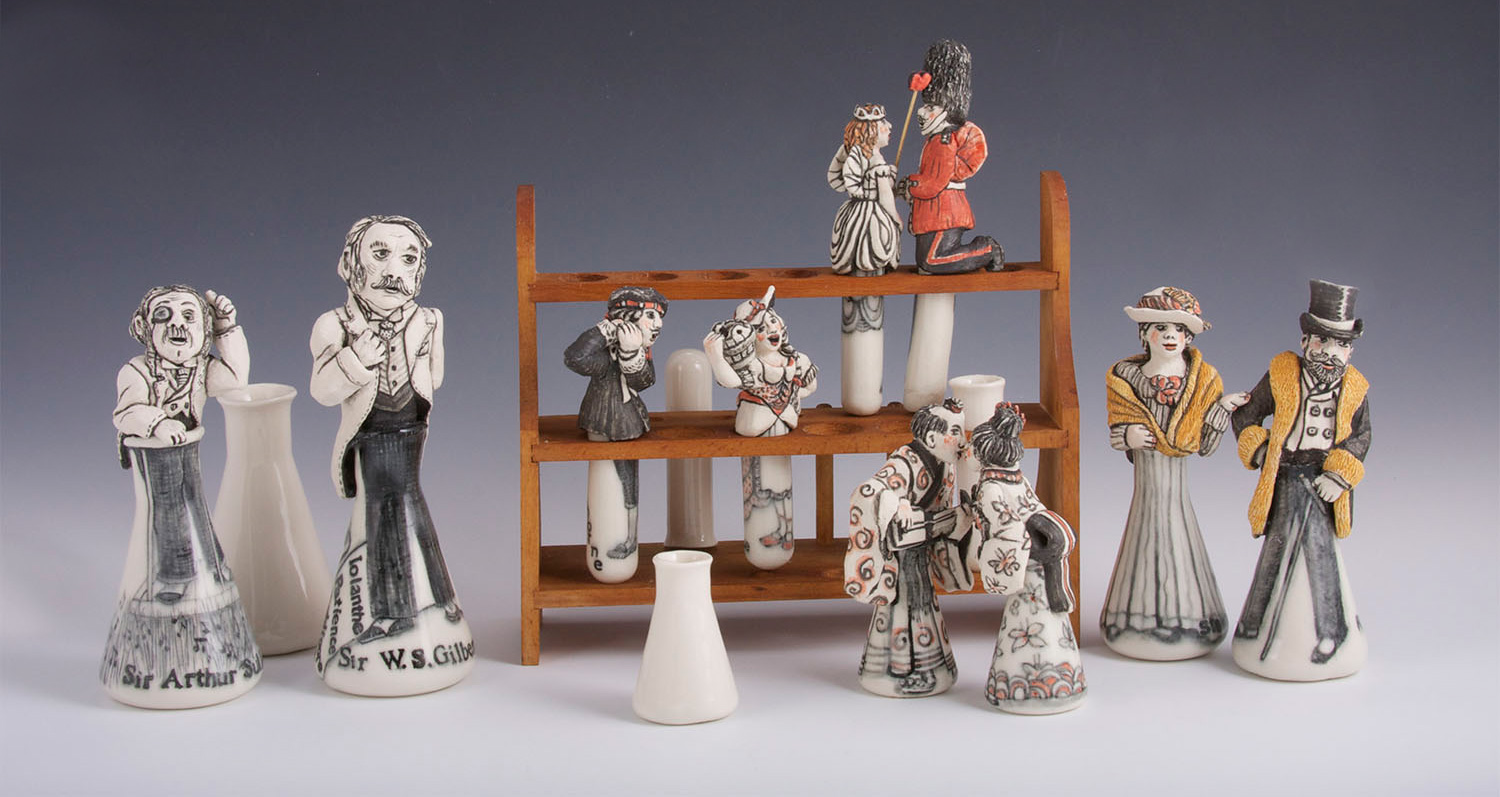 Overture to operetta Patience
Played by The Pro Arte Orchestra conducted by Sir Malcolm Sargent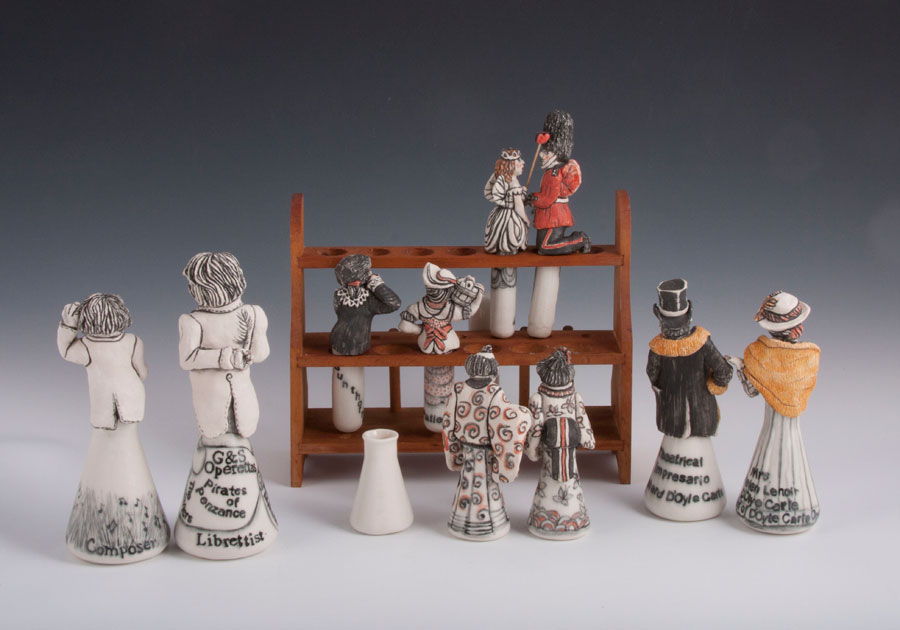 Overture to The Mikado
The D'Oyly Carte Opera Company
The title of this porcelain narrative piece was inspired originally by the 2015 NCECA conference (The National Council on Education for the Ceramic Arts) , held in Providence, Rhode Island.
That year the theme was "Lively Experiments."
I experimented with my husband's old chemistry set, casting Test Tubes and Erlenmeyer Flasks in porcelain slip, with sculpted porcelain clay characters emerging. These lively characters are favorites of mine found in the operettas created by the British theatrical partnership of Sir W.S. Gilbert (the comic Librettist, 1836-1911) and Sir Arthur Sullivan (the composer, 1842-1900). Both men are shown in the large Erlenmeyer Flasks; Sullivan is conducting with one finger, and wearing a monocle.
On the upper tier of the wooden rack, in test tubes, are the "Fairy Queen" and her love interest "Private Willis" – characters in the operetta Iolanthe. On the lower tier are the poet "Bunthorne," who is in love with "Patience," a milkmaid, characters from the operetta called Patience or Bunthorne's Bride.
Free standing in kimonos are 2 lovers kissing, Yum-Yum & Nanki-Poo from the operetta The Mikado. This operetta is performed much less often today, considered offensive to Japanese people.
The couples in fur coats, in Erlenmeyer flasks, are Richard D'Oyly Carte and his wife Helen Lenoir D'Oyly Carte. They were the Impresario and Steward that discovered and funded the team of Gilbert and Sullivan to create their successful operettas. They also founded the Savoy Theatre in London that showcased the G & S productions.
My kids, my husband and I have all enjoyed performing in G & S operettas at Interlochen Arts Camp, and in several school groups and community theaters around Boston. These operettas are performed world wide with great interest and comic contemporary interpretations.
My porcelain G & S piece, as of 2023, is now in the permanent collection of the AMOCA Museum, Pomona, California (American Museum of Ceramic Arts).
Reginald Bunthorne, a poet in love with Patience, a milkmaid from the operetta called Patience ( also known by the title of Bunthorne's Bride)
Danny Kaye, a charming American actor, singer, dancer, comedian recorded this song, as Bunthorne the poet, with the D'Oyle Carte Opera Company.
I Cannot Tell What This Love May Be sung by the character of Patience, a milkmaid by soprano Elsie Morison with the Glyndebourne Chorus and the Pro Arte Orchestra. Conducted by Sir Malcolm Sergeant.
From Iolanthe: The Queen of the Fairies (who never grows old) in love with Private Willis, becoming a fairy guardsman.
Soon As We May, Off and Away from Iolanthe sung by the following: Alan Styler, Donald Adams, Gillian Knight, Isidore Godfrey, Jennifer Toye, John Reed, Mary Sansom, Pauline Wales, Doyle Carte Opera Chorus, The New Symphony Orchestra of London Thomas Round & Yvonne Newman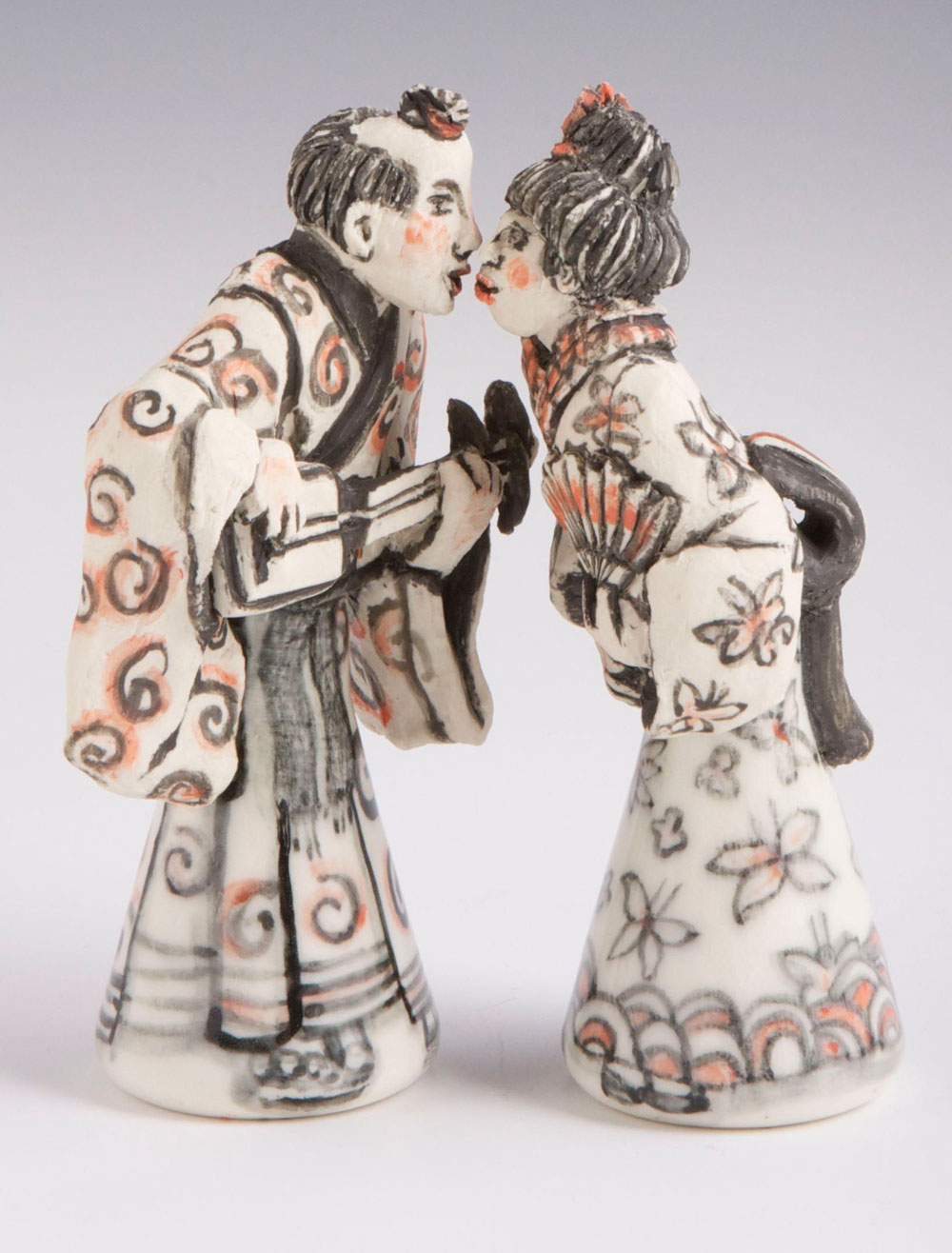 Nanki-Poo, the son of the Mikado of Japan, disguised as a wandering minstrel, and in love with Yum-Yum.
Yum-Yum is a ward of Ko-Ko, and also engaged to Ko-Ko, who is the Lord High Executioner of Titipu
Were you not to Ko-Ko Plighted
Nanki-Poo & Yum-Yum
Tenor Colin Wright Soprano Valerie Masterson
Royston Nash conductor, Royal Philharmonic Orchestra