Ceramic portrait plates of 2 noteworthy musician friends I admire for the exhibition "100 Years 100 Women" – the Clay Studio, Philadelphia, PA.
Aug 18th – Sep 27th, 2020
My friend, Suzanne Pemsler—a talented lyric-coloratura soprano/puppeteer, is my inspiration for this "noteworthy women" portrait. Suzanne brings the color and excitement of Opera to the concert stage in tours with PUPPET DIVAS — life-sized puppets of opera characters that she creates for performances in the US, Italy, Israel, Norway, England and India (by invitation of the Indian government). She also does many month-long Artist-in-Residencies in New England, Montana and Louisiana. Her unusual performances of music/opera/puppetry began when the Boston Mayor's Office of Cultural Affairs invited her to create an outdoor Puppet Theater for "Summerthing," a Summer Arts Program. Soon, she was commissioned to make puppets for public television, and her frequent concerts were entitled: International Song with Life-Sized-Puppets. Suzanne was called "The Pied Piper of Opera" in a Christian Science Monitor two-page centerfold, and she was recently honored by the Massachusetts Puppet Showplace Theater noting 4,000 spirited PUPPET DIVAS events.
https://www.theclaystudio.org/exhibitions/100-years-100-women
Participating Artists – Syd Carpenter, Pattie Chalmers, Adam Chau, Patsy Cox, Carole Epp, Christina Erives, Julia Feld, Julia Galloway, Raven Halfmoon, Trisha Kyner, Roberta Griffith, Katherine Hackl, Molly Hatch, Charlotte Hodes, Jane Irish, Jennifer Johnson, Ahrong Kim, Gunyoung Kim, Kathy King, Jennifer Ling Datchuk, Mimi Logothetis, Renee LoPresti, Roberto Lugo, Mac McCusker, Sara Morales-Morgan, Peter Olson, Stephanie Osser, Kyungmin Park, Hannah Pierce, George Rodriguez, Hope Rovelto, Amanda Schneider, Alex Stadler, Grace Tessein, Sue Tirrell, Mallory Weatherill, Suzanne Wolfe
August 18th, 2020 is the 100th anniversary of the ratification of the 19th amendment, giving women in the US the right to vote.
Who gained the right to vote when the 19th amendment was ratified on August 18th, 1920? The amendment stated that "The right of citizens of the United States to vote shall not be denied or abridged by the United States or by any state on account of sex. Congress shall have power to enforce this article by appropriate legislation." It was a partial victory, but who was still excluded? Native Americans, most Asian Americans, and although African Americans were technically included, it was not until the 1965 Voting Rights Act that racial discrimination was prohibited. Even today, many BIPOC citizens still face disenfranchisement.
We are taking advantage of this anniversary to celebrate the work for women's rights that has been done, while simultaneously acknowledging the work that remains. Statistics show that women earn only about 80% of what men earn, while women of color earn only 65% of what white men earn.[1] The US Congress is only 23% women,[2] and we still have not seen a woman president. The struggle of trans and woman identifying people is still in its infancy. These facts are the tip of the iceberg of remaining disparities that we must continue to dismantle.
Women have fought hard in so many ways, against extreme injustice, to gain a foothold for themselves and others, for their children, and for all children. This work, both public and private, is deserving of celebration and admiration.
We asked 50 artists to each choose two women they admire and honor them by making a modern-day commemorative plate. We welcome all perspectives on this topic, and we embrace a wide definition of women, transgender, and female identifying people. The people each artist chooses can be famous, anonymous, or their own private inspirations. The artists selected reflect the true wide range of cultures and gender identities of people making art in clay. By choosing artists across cultures and gender identities we welcome an illustration of women important to each artist within their varying experiences.
We are excited to present commemorative plates dedicated to women who these artists feel embody the spirit of female empowerment, and who deserve recognition for their contributions to society.
We look forward to walking into a gallery of heroes who will inspire us to keep fighting for justice and equality.
[1] "Racial, gender wage gaps persist in U.S. despite some progress". Pew Research Center. July 1, 2016. Retrieved November 26, 2016.
[2] Women in the US Congress 2020, Center for American Women and Politics, Rutgers University.
[1] "Racial, gender wage gaps persist in U.S. despite some progress". Pew Research Center. July 1, 2016. Retrieved November 26, 2016.
[2] Women in the US Congress 2020, Center for American Women and Politics, Rutgers University.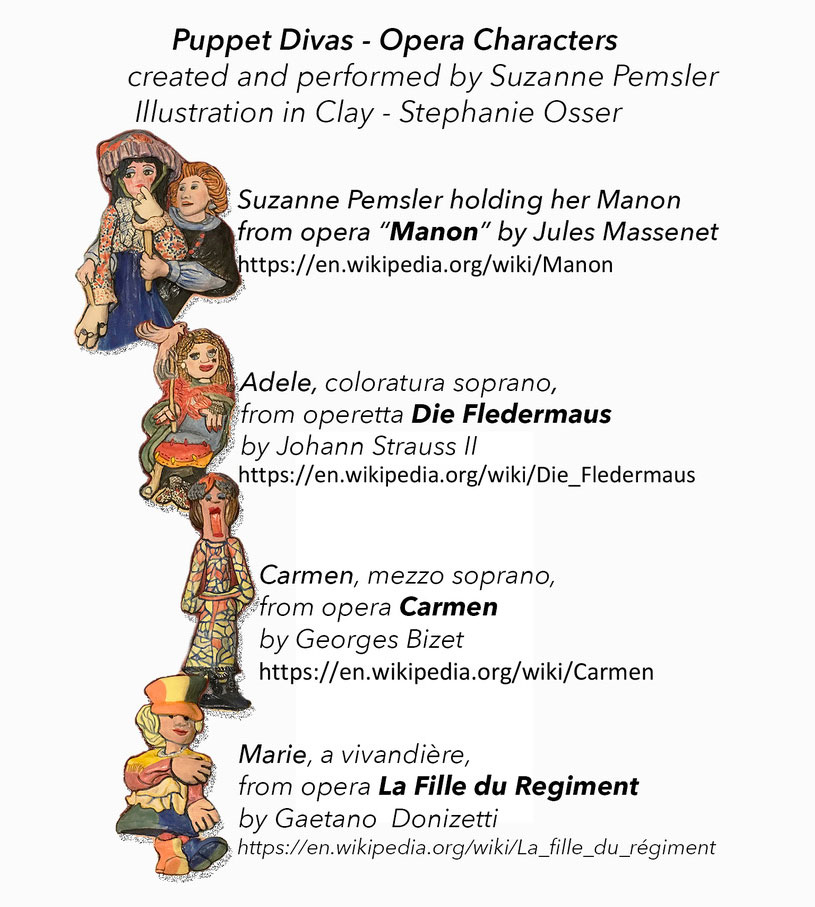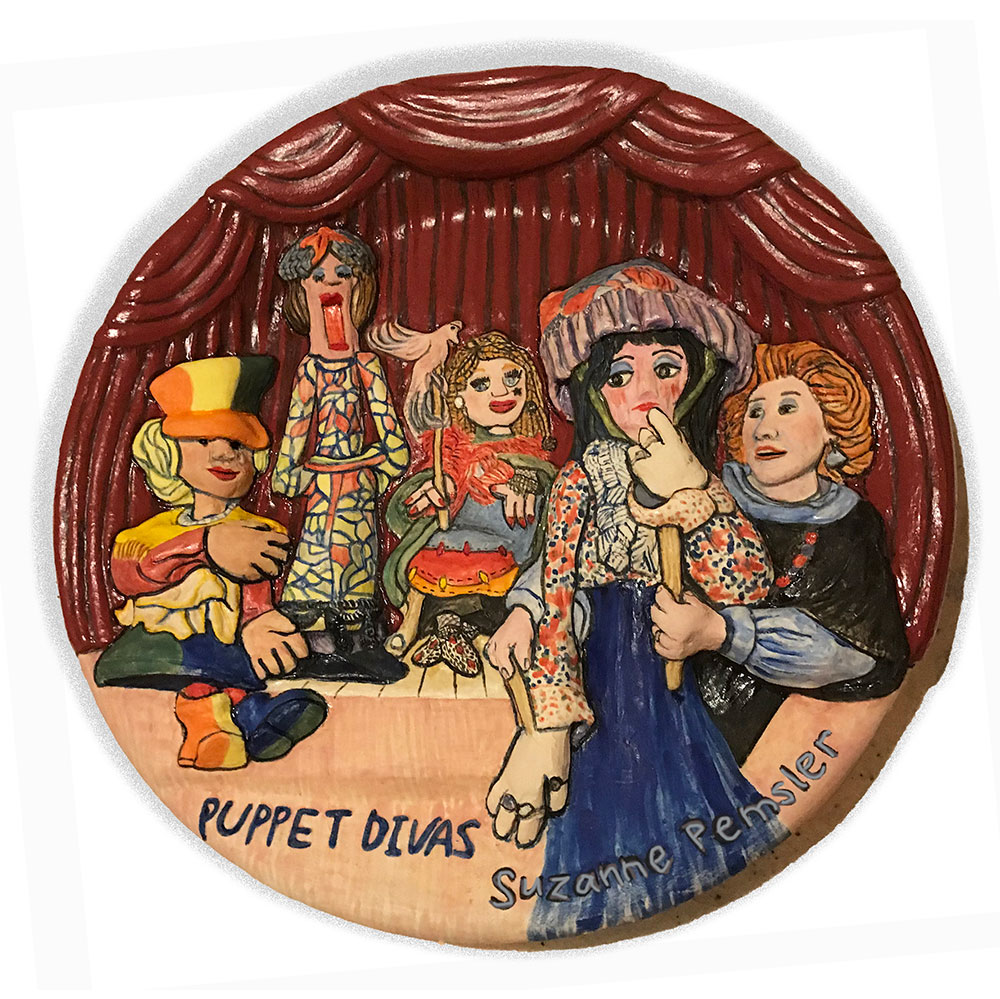 Original watercolor illustration years ago when I met Suzanne Pemsler and asked to make a watercolor illustration of her Puppet Diva "Adele" from the opera" De Fledermaus" by Johann Strauss.